The Global Lime Directory 2009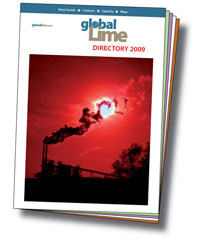 Up-to-date listing of all global lime plants - the most complete listing available worldwide*
Contact details - Telephone and fax where available
Basic process information - number of kilns & type
Up-to-date capacity information
News of planned upgrades
Country maps showing plant locations
Buyers' Guide to lime industry equipment and services
Global coverage in a concise format.
The price is UK£150/$285/Euro225 (with 33% discount on 2nd and subsequent orders).
*Some countries are necessarily incomplete, including Cuba and North Korea

FREE DOWNLOAD - REGISTRATION REQUIRED
Submit details

If you have not already done so, please submit your plant/company details using the link below
All lime plants submitting details in time for the publication of the next issue will receive a full copy of the Global lime Directory upon publication.